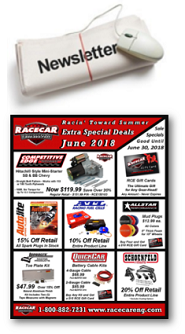 With Racecar Engineering™ being one of the leading racing and performance parts distributors in the country, we try our very best to keep the information flowing to our customers at all levels and from coast-to-coast. Racecar Engineering™ eNews provides racers, chassis builders, engine builders, teams and everyone in-between with information on new products, exclusive offers, technical tips and also some cool insights about what's happening here at RCE™.
So please feel free to sign-up now. Just fill-in your email address below along with a few details. Press the SUBSCRIBE button and BOOM!... You're all set!
Racecar Engineering™ eNewsletters are produced about every week or two, and therefore, we'll never bombard you and clog your email's ever-filling Inbox. Also be assured that we will NEVER include attachments and freak-out your Anti-Virus program. And just for your peace-of-mind, your submitted email data is totally secure at Racecar Engineering™, as we will not release, reveal, or resell your email info ever... Period!
Occasionally you may get a few extra additional emails from RCE™ if there is something really 'HOT and BURNING' you should know about like a Product Safety Recall, a Counterfeit Product Alert and the like. But we try to keep things very 'Simple'. However, if you think we're sending you too much 'stuff', please also remember that you can modify your email preferences or unsubscribe/opt-out of this digital news service at any time.

Racecar Engineering™ is 100% compliant with the United States Federal CAN-SPAM Act of 2003. To view our full Privacy Policy - Click Here.
Racecar Engineering™ hopes you enjoy and appreciate this electronic communication platform. If there is anything we can do to make it a better experience for you, please shoot us an email at marketing@racecareng.com, provide us some details and our Marketing team will look into your recommendation.
We sincerely appreciate your business and look forward to seeing you, your team, and your 'Hot Rod' in Victory Lane soon!

The Racecar Engineering™ Team