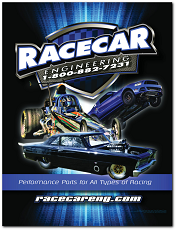 Our Racecar Engineering™ Drag Racing Parts and Accessories Catalog proudly offers racers one of the most complete and deepest selections of well-respected brands. We have all the top-quality parts on the market to help any drag car be quicker, faster, safer, and more consistent. Our latest catalog is nearly 750 pages and contains over 34,000-part numbers from nearly 400 of the top racing parts manufacturers.

So, cruise around here online, browse our great parts selection and shop here on our website 24/7. You can also request your personal hard copy of our current catalog. They're always FREE... Be sure to get yours today! To have the latest RCE™ Drag Racing catalog mailed directly to you - Click Here.


PLEASE BE PATIENT - Our digital catalogs are designed to be very quick and responsive. However, load time is very much dependent on your device and Internet connection, especially for first time catalog visitors.

DIGITAL CATALOG BROWSING/SHOPPING TIPS | CHANGE PAGE = CLICK/MOUSE-WHEEL/SWIPE | ZOOM IN/OUT = DOUBLE-CLICK/TAP | TO SHOP DIRECTLY FROM PAGE (OPENS POP-UP WINDOW) = CLICK THE RED-SHOP-DOT

TOP RIGHT | EXIT/CLOSE SHOP FROM PAGE POP-UP WINDOW = CLICK "X'

TOP-RIGHT SHOP PAGE WINDOW | (SHOPPING CART NOTE: Items added to cart will show in your cart once you exit the catalog page or click on your cart)

Don't Need The Catalog and Just Want To Browse The Parts Inside? No problem! To access and shop all brands and items in our 2020-2021 Drag Racing Parts and Accessories Catalog - Just Click Here.