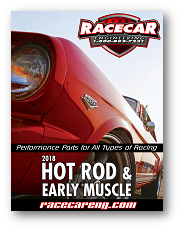 Our 2018 Racecar Engineering™ Hot Rod and Early Muscle Car Parts catalog is massive! At close to 500 pages, it professionally presents a wide-array of close to 17,000-part numbers from nearly 250 of the finest brands in the Hot Rodding and Muscle Car world.

The wide-world of Hot Rodding has continued to grow year-after-year and the ever-growing audience of fans and participants is at an all time high. To accommodate the growing demand by enthusiasts, car show events at the local and national level have become open to not just the traditional pre-1948 cars, but include vehicles from the 50's, 60's and 70's and even covers the 'Pro-Touring' scene. Our catalog has something for every serious street rodders and muscle car owners.

Please click below to browse the digital version of our catalog right now. You can also easily shop online directly from each page of the digital catalog.


PLEASE BE PATIENT - Our digital catalogs are designed to be very quick and responsive. However, load time is very much dependent on your device and Internet connection, especially for first time catalog visitors.

DIGITAL CATALOG BROWSING/SHOPPING TIPS | CHANGE PAGE = CLICK/MOUSE-WHEEL/SWIPE | ZOOM IN/OUT = DOUBLE-CLICK/TAP | TO SHOP DIRECTLY FROM PAGE (OPENS POP-UP WINDOW) = CLICK THE RED-SHOP-DOT

TOP RIGHT | EXIT/CLOSE SHOP FROM PAGE POP-UP WINDOW = CLICK "X'

TOP-RIGHT SHOP PAGE WINDOW | (SHOPPING CART NOTE: Items added to cart will show in your cart once you exit the catalog page or click on your cart)

Don't Need The Catalog and Just Want To Browse The Parts Inside? No problem! To access and shop all the brands and items in the 2018 Hot Rod and Early Muscle Car Parts and Accessories Catalog - Just Click Here.