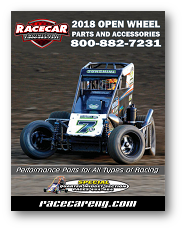 Our 2018 Racecar Engineering™ Open Wheel Parts and Accessories Catalog now approaches 500-pages with over 22,000-part numbers from over 300 of the most trusted product manufacturers around.

So whether you have a Winged Sprint Car, Silver Crown, Midget, Mini-Sprint or Quarter-Midget, We're confident that find all the components that you need to build a winning combination.

Please click below to browse the digital version of our catalog right now. You can also easily shop online directly from each page of the digital catalog.


PLEASE BE PATIENT - Our digital catalogs are designed to be very quick and responsive. However, load time is very much dependent on your device and Internet connection, especially for first time catalog visitors.

DIGITAL CATALOG BROWSING/SHOPPING TIPS | CHANGE PAGE = CLICK/MOUSE-WHEEL/SWIPE | ZOOM IN/OUT = DOUBLE-CLICK/TAP | TO SHOP DIRECTLY FROM PAGE (OPENS POP-UP WINDOW) = CLICK THE RED-SHOP-DOT

TOP RIGHT | EXIT/CLOSE SHOP FROM PAGE POP-UP WINDOW = CLICK "X'

TOP-RIGHT SHOP PAGE WINDOW | (SHOPPING CART NOTE: Items added to cart will show in your cart once you exit the catalog page or click on your cart)

Don't Need The Catalog and Just Want To Browse The Parts Inside? No problem! To access and shop all the brands and items in the 2018 Open Wheel Parts and Accessories Catalog - Just Click Here.