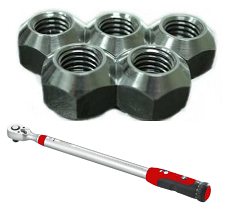 CIRCLE TRACK RACING WHEELS - 85 Ft-Lbs (115 N-m)**

Most Steel Circle Track Wheels require a 5/8 thread wheel stud and use a hardened steel, 1" oversize, open-ended lug nut with a 45 degree seat chamfer. Before going to the track, it is always recommended that you use a torque wrench and torque the lugs to 85 ft-lbs (115 N-m)**.
For brand new wheels, make sure to re-torque after the first use because as the powder-coat paint gets worn-off and it can cause the lug nuts to loosen slightly.

** Tech Info Source: Bassett® Racing Wheels - Website FAQs (link opens new web page)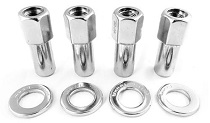 DRAG RACING / PRO-TOURING / HOT ROD / MUSCLE CAR WHEELS
Drag Racing - Most drag strips along with all sanctioning bodies require that all vehicles with slicks must have open ended lug nuts.
As a general rule, the thread engagement on all wheel studs to the lug nut, or lug bolts to wheel hubs, must be equivalent to or greater than the diameter of the stud/bolt. Length of the stud/bolt does not determine the permissibly.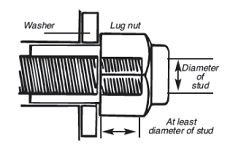 Example: A 7/16-inch stud must be thoroughly engaged through the threads in the hex portion of the lug a minimum of 7/16-inch. Refer to drawing shown here.

Pro-Touring, Hot Rods and Muscle Cars - There are dozens of wheel manufacturers in the racing and performance industry. With that said, many wheel companies are offering alloy wheels that accommodate OE lug nuts/bolts. However, many hi-performance and use-specific wheels require special types of lug nuts.


Be sure to follow the wheel manufacturer's instructions and know which seat design your lug nuts should be. This illustration shows the common differences in the wheel lug seat design.
And again, we cannot stress enough to please follow the wheel manufacturer's installation and mounting instructions.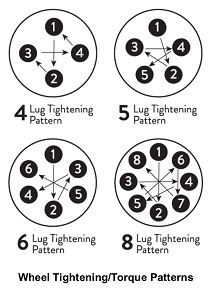 GENERAL WHEEL LUG NUT TORQUE SPECS++
A good rule of thumb for lug nut torque settings are as follows, but always check with the wheel manufacturer prior to torquing your wheel lugs nuts and also follow the proper torque/tightening pattern as shown here.
Wheel Stud Diameter / Foot Pounds (Ft-Lbs) / Newton Meters (N-m)
7/16" Wheel Stud: 75-85 Ft-Lbs (102-115 N-m)++
1/2" Wheel Stud: 85-95 Ft-Lbs (115-129 N-m)++
5/8" Wheel Stud: 130-140 Ft-Lbs (177-190 N-m)++
12mm Wheel Stud: 90 Ft-Lbs (122 N-m)++
14mm Wheel Stud: 110 Ft-Lbs (149 N-m)++

++ Tech Info Source: Weld® Engineering Performance - Website Technical Section
(link opens new web page)



A Word About Two-Piece and Three Piece Wheels and Beadlocks



As with the lug nut torque tech specs above, when assembling two-piece or three-piece racing wheels or securing the outer beadlocks, it is extremely important to follow the manufacturer's assembly specifications . The proper bolt torque and type of thread locker needed are critical. Please take the time to research this information and follow the factory's recommended assembly process.

Wheel Manufacturer Website Links - Click Any Logo To Visit Factory Website (opens new web page)
Important Note: Not All Manufacturers Publish Technical Info On Their Website.
If You Cannot Find the Tech or Product Info You Are Looking For, Please Call or Email The Factory Directly.


IMPORTANT NOTE & DISCLAIMER: Users should ALWAYS check with the wheel stud & lug nut manufacturer and also the wheel manufacturer for exact torque specifications they should use.
This information is presented as an informative representation for our customers. Racecar Engineering™ is NOT responsible for misinterpreted information or the end-users failure to follow recommended factory technical installation guidelines.





Return to Main Technical Center Page
Related Tech Topics: Measuring Wheel Bolt Circle | Measuring Wheel Width & Rear Spacing