Safety Equipment has never been such an important topic as it is today, and the importance/emphasis grows each racing season. Therefore, is important to understand what safety products are available, and how they affect the driver's safety. Each manufacturer has their own recommended sizing and usage charts, as equipment fitment varies from manufacturer-to-manufacturer.
Here in our Technical Center, we have attempted to compile the most recent comprehensive overview of these companies and their products to help you and your driver make an informed and educated decision as to the exact safety equipment you need to be safe while at the track.
Below who will find sizing/fitment guides to help you choose the proper Driving Shoes. If you need other driver or crew safety gear, please visit our other tech pages for Racing Helmets, Racing Suits, Driving Gloves, Head-Neck Restraints and also Racing Seats. And always remember, if you have a question about choosing the proper safety equipment, please contact our knowledgeable technical sales staff for assistance.



SFI® RATING - Safety equipment manufacturers who produce safety products carry an SFI® ratings. A typical rating for driving shoes looks like this:
SFI® 3.3/5 is where '3.3' is the foundation's standard for driving accessories and 5 is the rating. The higher that rating number, the better the protection. In this example, the number 5 is the most important number you will see. Some other less common rating are 3.3/1, 3.3/10 and 3.3/20.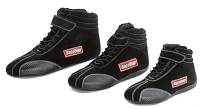 Most sanctioning bodies and tracks will require you to have a driving shoes with a minimum SFI® Rating in order to compete. However, that does not mean that you should buy only their minimum. Always double-check with your race track and series sanctioning body to make sure you are compliant with their rules. For more detailed information about the SFI® Foundation racing standards, please visit: www.sfifoundation.com. (link opens new page)
PROPER FITMENT - Driving shoes serve multiple purposes and just like race suits and gloves, can be either fire retardant or non-fire retardant.
Driving shoes provide protection to the driver and and if not properly fit, can have a big impact on the driver and the end results. All driving shoes should have high tops to provide padding protection to the ankle bone. These shoes should also properly fit the feet of the driver. Driving shoes usually have thinner soles to allow the driver to have a better feel on the pedals. Shoe laces should be short and tucked under the Velcro® strap on most shoes. This practice of tucking in the laces is to ensure they don't get caught or snagged on the pedals or some other part of the vehicle.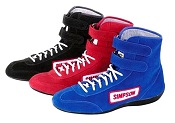 Remember, using the proper racing suit, gloves and shoes will provide the best protection and a comfortable racing experience.
If you are replacing a pair of driving shoes you already have, please don't make the mistake of assuming the sizes are all the same from one manufacturer to the next. Just because you wear a Size 9 from Brand X, doesn't mean that Brand Y's Size 9 driving shoes with provide you the same fit. Again, please refer to the factory shoe sizing charts provided below to ensure proper fitment.




| | | | |
| --- | --- | --- | --- |
| Alpinestars™- USA | Crow® Enterprizes | G-Force® Racing Gear | Impact™ Racing |
| Momo®-USA | OMP™ Racing Products | Pyrotect® Racing Safety | RaceQuip® Safety |
| RJS™ Racing Equipment | Simpson® Safety | Sparco® Safety USA | Velocita™ - USA |

RACECAR ENGINEERING™ HAS ALL OF YOUR SAFETY ACCESSORY NEEDS COVERED
Please remem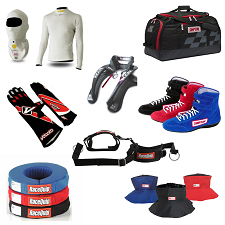 ber that Racecar Engineering™ carries a full assortment of brand-name driver safety accessory gear. We have in stock and ready to ship, driving gloves and shoes, underwear, hoods, socks, helmet supports, harness pads, arm restraints, helmet skirts, gear storage bags and much more.
Browse our wide selection of safety products and buy online today. If you have questions about choosing the right safety equipment for your motorsports segment, please contact one of our Technical Sales Associates for assistance.
At Racecar Engineering™ we make every attempt to be every racer's 'One-Stop Safety Shop'.


Return to Main Technical Center Page


Related Tech Safety Topics: Racing Helmets | Racing Suits | Driving Gloves | Head and Neck Restraints | Racing Seats