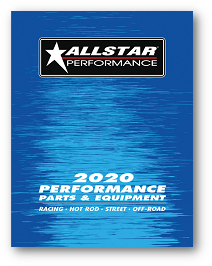 We at Racecar Engineering™ are very proud to represent the Allstar® Performance brand of products.
For over 20 years, we have worked closely with the factory and enjoy a long-forged solid business relationship. Just take a close look at our showroom selection along with the depth of our warehouse shelf stock, and you'll see why many people say that our facility looks like a 'Mini-Allstar® Warehouse'!
In fact, we sell so much Allstar® stuff, many people in the racing industry consider Racecar Engineering™ to be one of the 'Premier' Allstar® Performance Dealers in the United States.
To receive your FREE copy of the 2020 Allstar® Performance Parts Catalog, please complete and submit the Catalog Request form below. Once submitted, your catalog request will be emailed directly to the factory. Please allow two (2) to three (3) weeks for processing and US Post Office® delivery time.
In the meantime, please feel free to browse the digital version of the Allstar® Performance catalog online by clicking here. Also, don't forget to browse all of our other unique RCE™ Specialty Catalogs online in our Digital Catalog Library. Click here to visit our the Racecar Engineering™ Digital Catalog Library.
AND PLEASE DO US A FAVOR! When you finally receive your 2020 Allstar® Performance catalog from the factory, please make sure you remember Racecar Engineering™ and 'CALL US FIRST' to order all of your Allstar® parts or simply shop here online 24/7.
This FREE catalog offer is valid for all consumers with a mailing addresses in the U.S.A. and U.S. territories. Canadian and overseas consumers, please call Allstar® Performance directly at 269-463-8000 or email Allstar® Performance to inquire about receiving their printed catalog, as Customs Fees and/or Special Tariffs may apply.

ATTENTION ACTIVE UNITED STATES MILITARY MEMBERS - Allstar® Performance proudly supports the troops and will ship their product catalog FREE-OF-CHARGE to all active-duty U.S. Military personnel using their assigned APO/FPO/DPO addresses. Allstar® catalog parcels will be sent from the factory in Michigan via the US Postal Service® and can take 4 to 8 weeks for catalogs to arrive to the designated APO/FPO/DPO shipping address. When completing the Allstar® Catalog Request form to an APO/FPO/DPO address, please follow the special instructions at the bottom of this Catalog Request form. The Allstar® Performance Team 'Thanks You' for your service!



PRIVACY NOTE: Racecar Engineering™ is fully committed to keeping our customer personal information private. For full information, please refer to our Privacy Policy.


Don't Forget About The Racecar Engineering™ Specialty Catalogs - Now Digital and Online! Please remember you can also browse and order online from any one of our market specific digital catalog publications. So whether you are into Circle Track, Drag Racing, Open Wheel, Hot Rods and Early Muscle Cars, Late-Model Muscle Cars or strictly Engine Parts and Accessories, we have a catalog that we think will float your boat. Click here in revisit our entire Digital Catalog Library.

APO/FPO/DPO CATALOG REQUEST FORM INSTRUCTIONS - Include your rank (if applicable) along with your first and last name in the NAME fields. Enter your Unit Information in the first ADDRESS field and please be as specific as possible. Type APO, FPO or DPO in the CITY field. Choose either AA (Armed Forces Americas), AE (Armed Forces Europe) or AP (Armed Forces Pacific) from the STATE field pull-down menu. ZIP CODE field should be the ZIP+4 format if possible to ensure proper routing and to minimize delays in receiving your catalog. IMPORTANT NOTE: On DPO addresses, please do not include the street address of the embassy or your job title.